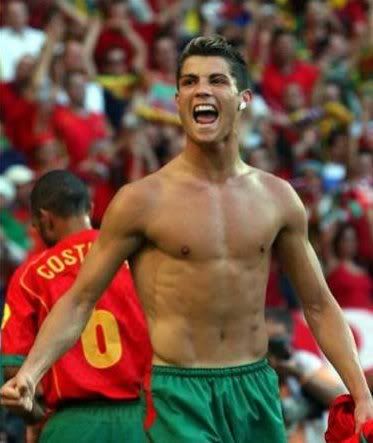 Cristiano Ronaldo, World Cup 2010 soccer superstar and captain of the Portugal national team  is the envy of every young man and the dream of millions of young women worldwide. The 25 year old football player has a well sculpted and chiseled physique and my word! The soccer star looks absolutely scorching in the new  ad campaign for Emporio Armani . Here's a peek at the  diet and workout regimen of the soccer star with the deadly combination of a perfectly toned body and a boyish face with a disarming smile.
Ronaldo's nutritionist Patricia Teixeria  has some worked out smoothies and juices that are nutritional  boosters .
A concoction for de-toxing the system made from navel oranges, green grapes, water-melon and mint leaves.
A juice to boost the immune system made using oranges, pineapple, red apples and ginger.
Juices from the kiwi fruit, green apple, grapes and pineapple mixed and taken to a aid digestion after a heavy meal.
Patricia recommends the following for her celebrity clients:
* Mangoes, pineapple and red colored fruits are to be taken in the morning. Follow it up with a protein in the form of yogurt or white cheese and whole grains or a granola bar.
* Lunch on a big bowl of salads with a host of colored vegetables and a lean protein like chicken or tuna.
* Dinner comprising steamed vegetables and a lean protein.
* Totally avoid any fried foods and sweets can be consumed occasionally, in moderation after lunch.
Ronaldo undertakes 3-5 hours of fitness training five days a week which typically includes strength training, cardiovascular exercises and game practice sessions. And playing an action packed, fast-paced and exhilarating game like football where every muscle in the body is worked, gives the sexy star a fabulous V-shaped body and chiseled abs.
The young man says " I'm living a dream I never want to wake up from".
As Cristiano Ronaldo heads his team to try and capture glory at the 2010 FIFA World Cup at South Africa, his fans wait with bated breath and wish him and his team luck and success.
Celebrity Diets
,
Celebrity Workouts
,
Christiano Ronaldo
Related posts
Free Diet Profile and OMG Fat Loss Report
Enter the type of foods you eat in my Free Diet Profile and you'll get:
- 10 personal recommendations to help you lose body fat right now.
- You'll also get my special Fat Loss report and discover this "1 trick to losing body fat."
Just enter your first name and email below and your diet profile and free bonuses will be emailed to you.
Your email will NEVER be sold or rented. We guarantee your confidentiality. Be sure to check your "bulk","spam" or "junk" folders in your email as sometimes they get mistakenly filtered.